Noah Charney on Art Crimes and Art Historical Mysteries
The Secret History of Art – Noah Charney on Art Crimes and Art Historical Mysteries
April 9, 2014, 2:42 pm
This week The Secret History of Art interviewed 80-year-old, world-famous naturalist, Dame Jane Goodall.  Check it out here.
March 18, 2014, 4:47 am
The Secret History of Art is one of a select number of jury members for a brand new prize, established by the Institute of Cultural Diplomacy and former Italian Minister of Culture, Francesco Rutelli.  The Cultural Heritage Research Prize will be awarded annually to someone who distinguishes themselves in the field of cultural heritage protection and recovery.  The prestigious prize includes a substantial cash award as well.  Noah's fellow jurors include Rutelli, Mounir Bouchenaki (special advisor to the UNESCO Director-General), Bonnie Burnham (President, World Monuments Fund), Jack Lang (former French Minister of Culture, now President, Institut du Monde Arabe), Giovanni Nistri (former Commander of the Carabinieri TPC, now Director, Great Pompeii Project), Peter Watson (writer), Hanna Pennock (Director General, ICOM), Ismail Serageldin (Director, Great Library of Alexandria), and Stefano de Caro (Director-General, ICCROM).
March 12, 2014, 9:03 am
The Secret History of Art is just finishing his next book, co-authored by the great art historian, professor and critic Ingrid D. Rowland.  It's called THE INVENTION OF ART: Giorgio Vasari and the Secret History of Art, and will be published by Norton in 2015.  If focuses on the Renaissance artist and architect, and the godfather of art history, Giorgio Vasari as a lens through whom to discuss the history of how humans have thought about art, from cave paintings to sharks in formaldehyde.  To keep track of the book's progress, follow me on Facebook or via my website or this blog.  And for a sneak preview, here is the paragraph I just wrote now for the book:
March 4, 2014, 1:02 pm
The Secret History of Art will be teaching a three-day workshop on writing for publication at the Humanities Faculty of University of Ljubljana, Slovenia.  It will run March 5-7, 3 hours a day, covering fiction, non-fiction books, and articles.  It does not so much teach how to write as how to be a writer: the logistics and tactics for acquiring an agent, preparing a successful book proposal, writing pitches to magazine editors, and then preparing your work for success with anglophone readers (who prefer a very different style than is common in central and eastern Europe).  We've got a full compliment of students this year (last year's two-day version was fully booked, with a waiting list), and it looks like I'll be offering this annually.  For more information or for future such workshops, visit www.noahcharney.com.
February 27, 2014, 2:36 pm
The Slovenian businessman, Bozidar Novak, has worn many hats.  He was one of the first public relations gurus, in the Western vein, to work in Yugoslavia, and he is the head of several successful businesses in Slovenia.  He is also a popular columnist and proponent of his hometown, Maribor, which enjoyed the status of European Capital of Culture in 2012.  His latest book, "Capital: Adventures in PR, from Yugoslavia to Harvard to the European Capital of Culture" was just released.
February 19, 2014, 5:13 am
February 12, 2014, 9:04 am
2014 POSTGRADUATE CERTIFICATE PROGRAM IN ART CRIME AND CULTURAL HERITAGE PROTECTION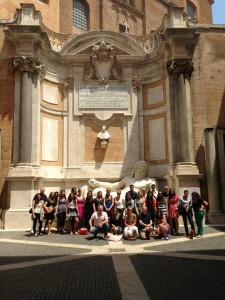 February 11, 2014, 5:17 am
The Secret History of Art's latest article, among very many you may have noticed, related the Monuments Men film was in The Daily Beast.  It imagines Hitler's planned Fuhrermuseum in Linz, for which he stole thousands of European masterpieces.  As an art historian, there is a dark interest in what that museum would have been like, wandering its halls.  Take a look here.
February 7, 2014, 9:17 am
My latest article for Esquire is about the real descendants of the Monuments Men in today's US Armed Forces, who are just as heroic as ever.
February 2, 2014, 7:50 am
"Hunting Hitler's Stolen Treasures: the Monuments Men," the documentary tie-in to the Monuments Men movie that I host, will be screened on National Geographic Channel at 8pm EST on February 5.  Tune in if you get a chance.