Think about American art in the 1930s. Does anything come to mind? Maybe the Regionalism of Thomas Hart Benton and Grant Wood. But there was so much more to the decade than that. For one thing, art was "subsidized" via the Works Progress Administration in the second half of the decade, probably creating a bigger volume and more artists than usual. These years were a hotpot of creativity in many modes, like social realism, surrealism and other modernist styles.
Yet this is an understudied and underexposed period. America After the Fall: Painting in the 1930s at the Art Institute of Chicago does some way toward redressing this, as I learned when I visited the exhibition earlier this month. I reviewed it, positively, in today's Wall Street Journal, where my piece is headlined Bullish on Creativity. I'm sorry I didn't get to Chicago sooner, because the exhibit runs only until Sept. 18. Then–another good sign for American art appreciation–it moves to L'Orangerie in Paris and then to the Royal Academy in London. It will be the first time, curator Judith Barter tells me, that Wood's American Gothic leaves these shores.
I won't summ up the exhibition for you; let me just set the stage and quote from the catalogue. Even as citizens' faith in America was shaken, American artists strove to develop a national art.
The result was artistic sparring throughout the 1930s between those who wanted an American art based on realism and those who felt that abstraction was a universal language that pushed beyond nationalism. Many artists sought a new realist aesthetic language aimed at the people; others tried to express the inner world of dreams and imagination. Some used their work for social protest and to address politics; still others tried to create new forms of art and politics that could repair a democracy damaged by economic chaos.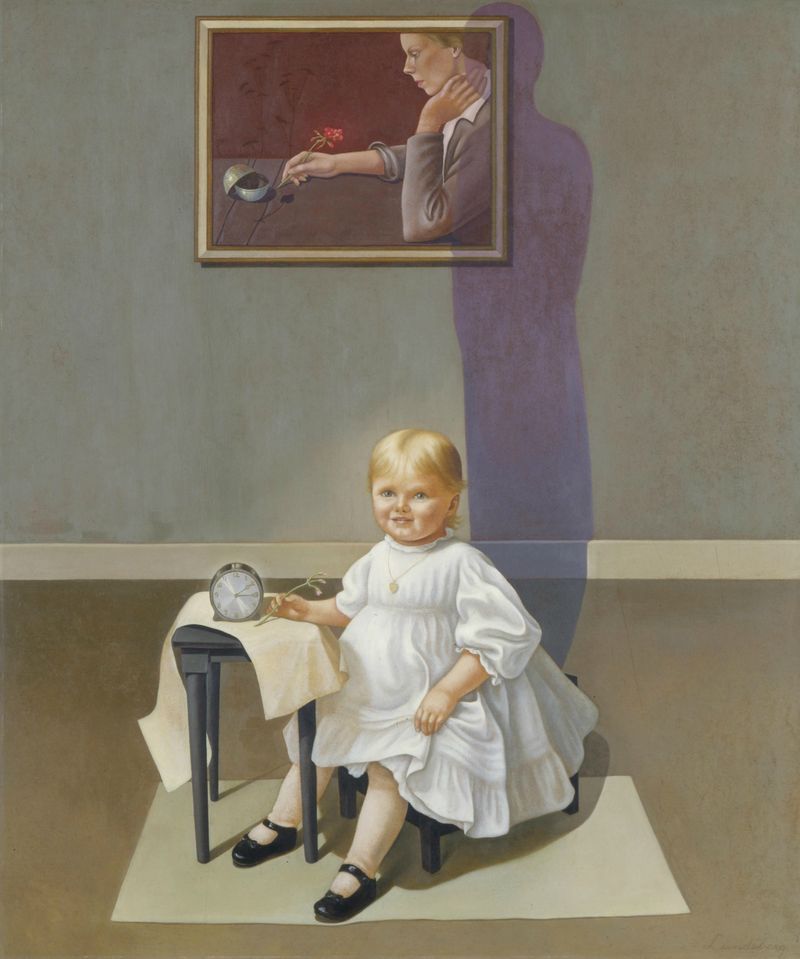 It must have been hard, then, for Barter to choose just 50 works of art. This show could have sprawled in an attempt to show everything. But I am so glad she did have the discipline to pick only what she thought was best. Not everything is to my taste, but the quality is very high–even though some works were pulled from museums' storerooms.
If you click on the WSJ link, you can see Aaron Douglas's Aspiration. So let me post two works that are not well known, but which I liked a lot. Up top is Joe Jones's Roustabouts, from 1934, and below is Helen Lundeberg's Double Portrait of the Artist in Time, from 1935.
I can think of only one flaw, but I can't attribute it to the curator, as I didn't ask: There is music playing in the galleries. Woody Guthrie, for example. I like music; I like Guthrie. But I found it to be distracting and tried to blot it out. Let's not have this mini-trend spread.