In New York, I visited several special exhibitions last week. Let me mention two here.
The first, Founding Figures: Copper Sculpture from Ancient Mesopotamia, ca. 3300–2000 B.C., is at the Morgan Library and Museum until Aug. 21. Don't miss it, if you live nearby. Lucky for me, I had a tour of it from the curator, Sidney Babcock, but this small show in the Morgan's cube gallery has real appeal to anyone interested in ancient art and the development of art, period.
It's hard to get attention for small shows in New York, and this one did not receive the reviews or media coverage it deserved. It's built around a figure of King Ur-Nama, ca. 2112–2094 B.C., that was purchased by Morgan (detail at left, but if you go to the link above, you can see not just the whole figure but a rotating picture of him) and borrows some works of the period from the Metropolitan Museum and other lenders, including a couple private collectors who are unlikely to lend these pieces again anytime soon.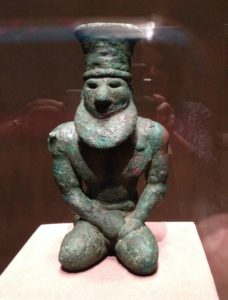 Just ten little works, including a couple of cylinder seals, can make a big impression. I'm posting two pictures of two of the other figures.
The first, at right, dates to 3300 to 3100 B.C. and is thought to be a male priest. It's one of the oldest surviving cast-copper sculptures from Mesopotamia. Just look at the muscular chest, the asymetrical posture and, if you can see it, the foot tucked under his body.
Below him is a man balancing a box on his head, dated c. 2900 – 2600 B.C. He is traveling down a ramp, perhaps, and you can just see him trying to maintain his balance and his erect posture.
The exhibit I'm glad is gone is Martin Creed: The Back Door at the Park Avenue Armory. I had seen one of his balloon works, at the Cleveland Museum of Art, some years back, and I know he won the Turner Prize. I wanted to see more for myself, especially since this show won loads of publicity. ARTNews wrote of it, "against all odds, his deadpan Duchampian strategies spill over into profundity." The magazine called him triumphant.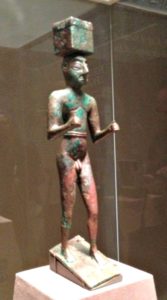 I'll say. The exhibition, despite positive reviews, is one of the worst I've ever seen.  Trying to explain it, The New York Times said:
…viewers will encounter films of people vomiting and of people defecating, along with a piano that opens and slams shut, an array of metronomes ticking at different speeds, and a room whose lights go on and off at one-second intervals. All are outpourings from Mr. Creed's psyche, a delicate but highly tuned instrument beset by odd compulsions and Freudian obsessions.
The Armory gave him its entire first floor, including the historic rooms.
But what a disappointment. I didn't find any of the many parts moving, or exhilarating, or even entertaining. I found it to be provocative without originality (a video of a penis and another of a female breast?) and, far from "compelling," to quote Nicholas Serota, I found it tedious.
In the NYT article, Creed said: "I feel bad to say I'm an artist, because I don't really know what art is…I would say I'm a person who tries to do things and work in a field that is commonly known as art. I try and do things because I find life is difficult and I want to make it better. More bearable."
I agree with the first half of that quote, but I find the second half hard to believe.