Winona, MN, is home to just 27,500 people, but it has an art museum worthy of a much bigger city. The Minnesota Marine Art Museum (below)–which is far more interesting that you may now be imagining–just celebrated its tenth anniversary. And an article that I wrote about it for The Wall Street Journal was published today.
The MMAM was the brainchild of a local collecting couple named Bob Kierlin and Mary Burritcher. They knew nothing about art when they started collecting, as I wrote:
Confronting a large blank wall in their living room, they mentioned their quandary to a neighbor, who soon handed them a stack of old art magazines. In a three-year-old ad, Mr. Kierlin found a marine painting he liked. He called the dealer and the painting was theirs, sight unseen. They bought other works like that, not looking in person and not even knowing that art prices can be negotiated.
But today they, with the help of others, have created something very worthy. For them, marine art includes any work with enough water to "float a boat." And so the museum–which has beautiful, spacious galleries, is filled with works by many great artists. It has been expanded twice and most of it is filled with works on loan from the couple. They include Turner's 1841 watercolor Heidelberg With a Rainbow, Gauguin's Still Life with Onions, Heade's The Great Florida Sunset and View From Fern-Tree Walk, Jamaica, Beckmann's "Dutch Landscape with Bathers" plus paintings by Monet, van Gogh, Picasso, O'Keeffe, Hartley, Cole, Bierstadt and Homer. Plus many more.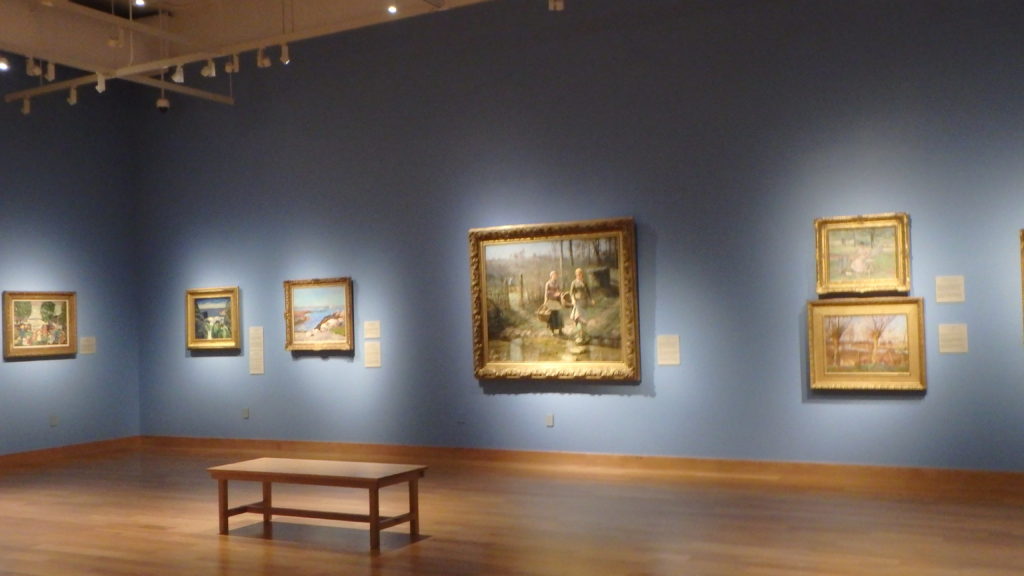 The couple and the museum officials also did something else smart: They hired Annette Blaugrund, a former director of the National Academy Museum & School of Fine Arts, to edit a catalogue, Charting New Waters: Redefining Marine Painting. She was aided by dealer/art historian John Driscoll, who has been advising Kierlin and Burritcher, and she enlisted highly credentialed art historians to write the entries. They include Joseph Ketner, Barbara Novak and Leo Mazow.
By nature, traditional marine art (barring shipwrecks) tends to be romantic, and the MMAM leans toward unroiled waters, too. It's not edgy. But it's wonderful that it exposes so many people to art that might not otherwise get the chance–even in Minnesota.
Go visit!