Earlier this week, the Metropolitan Museum announced a significant layoff: Cynthia Round (top), the senior vice president of Marketing and External Relation–who was hired by Thomas Campbell, the director, only in 2014. Her department, remember, was in charge of the rebranding and the dreadful new logo. She also oversaw press and, apparently, was responsible for the regrettable profile of Sheena Wagstaff in The New York Times last fall.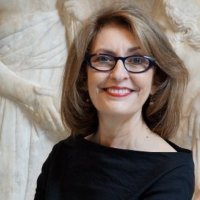 Round's defenestration is no surprise in some ways therefore, but the fact that she was a Campbell hire, the person brought in to replace Harold Holzer, does not look good for him (to several people close the Met and/or former employees of the Met that I interviewed).
And today it was announced that Susan Sellers (bottom), the Met's Head of Design, is departing and returning to private practice. She, too, had a lot of say in the rebranding/logo initiative. Sellers oversaw exhibition design, and while some recent shows have been praised, others have been disappointing.
The memo from the top said, in part:
We are grateful for her work on the brand strategy and identity, The Met Breuer opening, and the introduction of new design initiatives throughout the Museum.  She will remain a trusted resource and dear friend to The Met, where her design legacy will long be felt.
Sellers was hired only in 2013.
The two were preceded out the door recently by Olena M. Paslawsky, the chief financial officer, senior vice president and treasurer–who is taking some blame for the museum's huge deficit, and Joanna Prosser, vice president and general manager, merchandise and retail. The Met's stores are considered to be a bit of a disaster. Prosser was hired in 2013, also by Campbell.
Christine Coulson, who was promoted to Chief Advisor to the Director in June 2014, is also leaving, though apparently of her own volition, and possibly for only a year.
Previously, several people who had been hired by Campbell's predecessor Philippe de Montebello and were long-time employees, left or were encouraged to leave. They include Nina Diefenbach, the deputy vice president for external affairs and chief development officer, who left to be deputy director for advancement at the Barnes Foundation. You  might also include Holzer and Emily Rafferty, the former president in the this category. These people were thought by many to be "employees for life." Perhaps wrongly. Meanwhile, Associate Director Jennifer Russell, hired long ago by de Montebello and again by Campbell (after other posts in between), also retired this spring.
Rebecca Rabinow, on the curatorial side, also recently resigned to be director of the Menil Collection. She was a huge loss, not only for her smart exhibitions and scholarship (like the 2012-13 Matisse show) but also because she was head of the Leonard A. Lauder Research Center for Modern Art at the Met, and close to him and his curator, Emily Braun.
Who's next to go? There are many rumors that layoffs before July 1 will be large. Some insiders hope that people will be let go from the huge tech department. It has ballooned out of proportion, my sources say.
*I consult to a foundation that supports the Met.